Success with Russells Muay Thai Training in Plymouth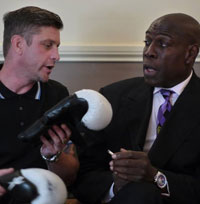 I have won a few awards for my coaching since I qualified as a coach in 2009, as well as passing my level One ABA Boxing Coaching Award. I Founded Russells Muay Thai, which has enabled me to coach people and get them fit, build confidence, team build and given the opportunity to students who want take part in semi contact or full contact competition.
The men and women who have fought for Russell's Muay Thai have had a brilliant time and success. I've also done many fund raisers and have helped problem teenagers and ex offenders, which made me apply for place in the Dartington Collage of Social Enterprise. After months of pitching and hard work I got through and was proud to be part of the final 29 people out of 600 in the South West.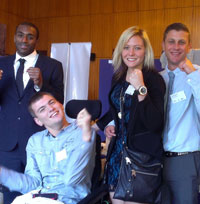 The Dartington Collage of Social Enterprise gave me a grant and backing from Lloyds Bank and the Lotto, where I've carried on my hard work providing opportunities for problem teenagers, offenders and disabled individuals to get into boxing and Thai boxing.
I've worked with some great people and I've enjoyed success. I welcome anyone to work with me in my vision boy, girl, man, woman, able bodied or disabled. I've also worked with Plymouth Special Olympics club and when I've worked with them I leave with such a good feeling that money could never buy.
Barry Hartshorn an individual success story
Barry has been with me since he left prison in 2011 and has gone from strength to strength. He's had over 20 semi contact bouts and over 5 full contact competitions, where he's travelled the country and embraced the sport of Muay Thai.
Since joining the club and focussing his energy in a positive way Barry has got a job, become disciplined, his outlook on life has become more positive and he has got into college. Barry states that ''Thai boxing has changed my life, I have not reoffended again'