Gareth Russell Muay Thai Trainer and Instructor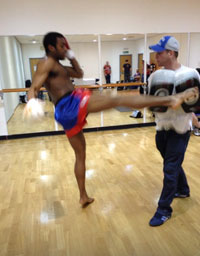 I'm Gareth Russell, coach and founder of Russell's Muay Thai and contact sports. This is just a little on how I started.
I first joined a kickboxing club in 2001 to lose weight and get rid of frustration, which started off my long journey so far. Then after two years I needed a change as I wasn't being pushed enough, so i joined Saints School of Fighting Sports in Plymouth and trained in mixed martial arts for a year, taking part in a semi contact bout which I enjoyed so much.
However, I started to miss the stand up so I went into Thai boxing [ Muay Thai ] where I enjoyed learning and perfecting the sport. I took part in other semi contact bouts but I decided to turn to coaching under a brilliant camp, working with top class coaches to learn the art of Muay Thai.
In this camp there were English, British and World Title holders who were honoured to be coached, in my eyes, by the best coach. I won several coaching awards and was honoured in 2009 to receive my coaching licence from Saints founder and coach Sid Remmer.
Why Choose Us
1
Experienced Coach
Full coaching licence since 2009.
2
All Skill levels
From beginners to full contact competition.
3
All Ages and Abilities
We welcome all ages whether able bodied or disabled.
4
For confidence and fitness
Whatever your reasons to discover Muay Thai you will find them here.