Muay Thai for all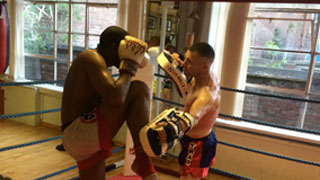 Our Muay Thai session really are suitable for all, or why not have a one to one Muay Thai training session with Gareth
The classes are at various times throughout the week, beginner or expert, we have sessions to suit everyone from juniors up to adults, ladies and the disabled. One on One Muay Thai private classes can be booked and also small group Muay Thai sessions for up to three people are available. See the timetable on the home page for times and days that suit you. If you have any questions or queries or just want more information please call Gareth who is more than happy to help.
Why Choose Russells Muay Thai
1
Muay Thai for Kids ~ The greatest gift that you can give your child is confidence.
Gareth specialises in growing children's confidence, making them fitter, teaching focus and concentration and at the same time teaching them some great self defence moves.
2
Muay Thai is not just about Martial Arts.
Muay Thai-Boxing will make you will feel stronger and more confident, you will also develop more speed and stamina. The flexibility training you will do as part of your class will improve your posture and enable your body to move in ways you didn't think possible.
3
Our exciting Muay Thai in Plymouth beginners classes
These classes re specifically designed for the Beginner to Thai-Boxing, a complete introduction to Muay Thai (Thai-Boxing) for those with no prior experience. and you can work at a pace that suits you.
4
The Muay Thai or Thai Boxing way of self-defence is second to none.
Thai-Boxing is recognised as the King of all Martial Arts. You will learn how to defend yourself against all forms of un-armed attack, using simple methods that have been tried and tested over centuries,